World renowned Masters Sports Nutritionist and Worlds Strongest Woman Competitor, Jennie Cwikla is the owner of Valkyrie Athletics, which specializes in working with elite level athletes in a multitude of sports to prepare them for peak physical performance.
She began her career by working as one of Hollywood's TV Infomercial secret weapons for rapid weight loss transformation before launching her own bootcamp & personal training studio in San Diego.
Cwikla currently serves on the Advisory Committee for Mueller College's PFT program and is a Licensing instructor for the National Association of Sports Nutrition.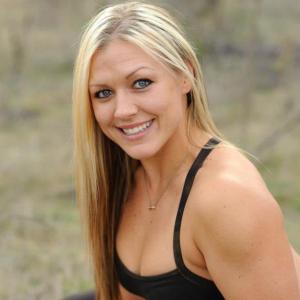 AJ Roberts – Co-Owner & Chief Strategic Officer
Fitness Hall of Fame inductee, Best Selling author and 2x World Record Holder, AJ Roberts is a world renowned strength and conditioning coach, athlete, seminar leader and serial entrepreneur.
Roberts began his career as a strength and conditioning coach at the University of Idaho from where he graduated with a Bachelor's in Sports Science. Since then he's gone on to gain vast knowledge and experience both as a Coach and Athlete in Powerlifting, CrossFit and Bodybuilding.
But more than that, he's also been the trusted business advisor and brains behind the operation for some of the most well-known and successful brands both inside the fitness industry and outside.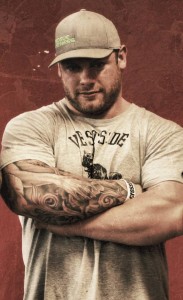 Amanda is a Sports Nutritionist, Professional Trainer, and Team Coach for Valkyrie Athletics here in San Diego.
She is currently a senior at San Diego Christian College working on a Degree in Sports Medicine, expected to graduate in the spring of 2016. She's been an athlete her entire life, participating in club soccer throughout high school, and played some college soccer for her first 3 years. She also used to compete in martial arts tournaments nationally, and has been awarded on an international level at the San Diego grand internationals on three separate occasions.
Training has become a passion of hers, and she is always looking for new opportunities to learn, grow, and share knowledge. She is currently not training for any upcoming events, but is always looking to keep fit mentally, and physically. If there is free time, Amanda enjoys cooking, and is always trying to find healthy alternatives to popular recipes.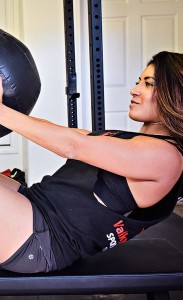 Luke Nowland is Valkyrie Athletics Strength & Conditioning Coach and Personal Trainer from San Diego, California. He specializes in sport sport-specific, strength, and bodybuilding style training focusing on speed, agility, strength, conditioning, reactive ability, and core training.
He has experience working with all ages from 8-85, as well as stroke survivors and individuals with disabilities. He is a lifelong athlete who, from an early age, recognized the benefits of training and nutrition, and always knew training was his passion. He is completing his BS in Kinesiology with an emphasis as a Fitness Specialist from San Diego State University.
His goal as a Strength and Conditioning Coach is to help people realize their athletic and exercise potential, and use these lessons to build self-confidence in all other aspects of life.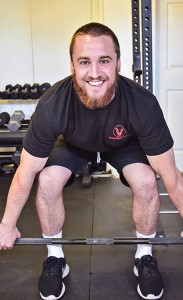 Cherona Schuler is the Director of Operations at Valkyrie Athletics. Cherona is a native San Diegan, is married and has 2 children. She is currently studying for her Nutrition License and attending courses to obtain her Personal Training Certification. Cherona has always been into fitness and has always wanted to pursue a career in fitness.
With a 20-year background in management taking on the role as Director of Operations at Valkyrie Athletics was the perfect opportunity. Cherona maintained a high level of fitness and health for many years. She would eat clean and attend a bootcamp every morning before work. In the evenings she would attend spin class with a body pump class directly after and on the evenings she did not have spin/body pump she would run.
After her first child she lost her way a bit and held onto her baby weight until her first born was one years old. She began a structured weight loss program that allowed her to lose 30 lbs. in 3 months. Cherona was back! So she thought, along came the second child. After the second child she decided it was time to learn all about Nutrition and Fitness so that she would know how to live a healthy lifestyle and pass that knowledge onto her growing family. With the knowledge she is receiving from her training she will not only be able to reach her goals, she will be able to help others reach their goals.
"Love yourself enough to live a healthy lifestyle"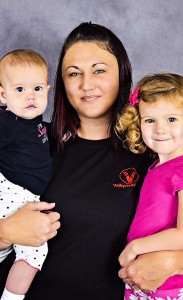 Valkyrie Athletics has been a huge part of my success this past year. My only regret is not reaching out to Jennie sooner! Because of Valkyrie Athletics I am not only the leanest I have ever been but I am also the strongest! Jennie is flexible and understanding when it comes to making meal plans work for each individual athlete. I have lost weight, gained strength, knowledge, and self confidence, and am currently working hard and seeing amazing results in both my Crossfit and my Weightlifting.
I started working with Jennie about 6 months ago in a group program. She's amazing. She doesn't only tell you what to eat, she tells you why. I started my one-on-one training with her shortly after. She's very encouraging and knowledgeable. My experience with Jennie has been nothing but amazing. She understands the struggle and motivates you to get to where you want to be.
Jennie has changed my life in the most positive of ways. She has helped me overcome physical fears that were limiting my ability to get fit. Her nutritional guidance and support have helped me drop weight, almost magically. My strength and stamina have increased proportionally. I couldn't be happier!